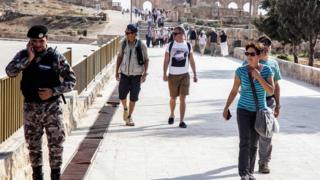 Un hombre armado ha herido a cuatro turistas extranjeros y otras dos personas en un ataque en la ciudad jordana de Jerash, dicen las fuentes de seguridad.
Tres mexicanos y un ciudadano suizo resultaron heridos junto con un guía turístico y un guardia de seguridad en el popular destino turístico.
El presunto atacante fue arrestado cerca, según la policía.
Jerash, hogar de un sitio romano antiguo bien conservado, atrae a miles de visitantes extranjeros cada año.
Los videos en las redes sociales muestran a una mujer tendida sangrando en el suelo y a otra mujer con una camisa manchada de sangre.
Un turista estadounidense, Marco Junipero Serra, le dijo a la BBC que la persona que había llevado a cabo el ataque estaba vestido todo de negro y tenía la cara cubierta con una máscara.
El atacante saltó una cerca en el sitio alrededor de las 11:00 (09:00 GMT) y comenzó a apuñalar a las personas indiscriminadamente, dijo el testigo.
Según el Sr. Serra, la policía no cerró el sitio durante el incidente, y la gente todavía era libre de entrar y salir.
Uno de los heridos fue Ali El Agrabawi, el conductor de un autobús turístico. En el hospital Jerash, dijo a los periodistas que había sido apuñalado mientras intentaba evitar que el asaltante ingresara a una cafetería llena de turistas.
Jordania, visto como un destino relativamente seguro, depende en gran medida de su industria turística.
Según la junta de turismo del país, el país alberga 21,000 sitios arqueológicos e históricos.
Source link
Be part of our affiliated companies and receive a 20% discount.
www.onevirtualoffice.com
www.be1radio.com
www.rmcommunik.com
www.beonegroup.ca
Need Help?
Let our experienced staff help with virtual helpdesk. click for details.
Services:
– Laptop and Desktop Repair
– Virus and Malware Removal
– Computer Tune-up
– Remote Assistance
– Data Backup
– Data Recovery
– File Transfer and Sharing
– Hardware Diagnostics
– Antivirus Installation
– Software Installation
– Hardware Upgrades
– New System Setup
– Printer Troubleshooting
-Webmaster,hosting,Logo , Graphic design
-Social media Management
– Networking
– Install Windows Operating System (10, 8, 7, Vista and XP)
Business & Residential Toll Free: 1-800-432-1475 | Direct: (438)488-3296
Eventos Montreal
conciertos Montreal