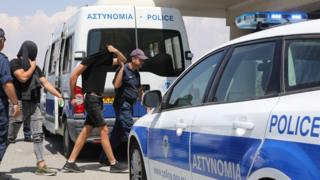 Doce israelíes han comparecido ante el tribunal de Chipre por la presunta violación de una mujer británica de 19 años.
Se dijo que el presunto ataque tuvo lugar en un hotel en el popular centro vacacional de Ayia Napa.
Los sospechosos, que tienen entre 16 y 20 años, excepto uno, que tiene 15 años, aún no han presentado ninguna petición.
Han sido puestos bajo custodia y la policía ha recibido ocho días más para investigar.
La mujer británica se comunicó con la policía en las primeras horas de la mañana del miércoles diciendo que había sido violada en un hotel en Ayia Napa. Más tarde, ese mismo día, la policía arrestó al grupo de 12.
Durante la audiencia del jueves por la mañana, la jueza Tonia Nicolaou confirmó los nombres de los arrestados antes de que los reporteros tuvieran que abandonar la sala de audiencias debido a la edad de un sospechoso, el 15 -un chico de edad.
Los padres de varios de los arrestados viajaron desde Israel a la audiencia de la corte en Paralimni, cerca del centro turístico Ayia Napa.
Los sospechosos fueron conducidos a través del edificio de la corte esposados ​​unos a otros en pares.
Algunos padres gritaron mensajes de apoyo y los abrazaron.
La madre de uno de los sospechosos le dijo a la BBC que su hijo no había hecho nada malo.
Un diplomático israelí estuvo presente en el tribunal y dijo que monitorearían pero no interferirían con el caso.
La Oficina de Asuntos Exteriores ha dicho que apoya a una mujer que fue agredida y dice que está en contacto con la policía local.
La ciudad de Ayia Napa es un centro turístico popular entre los jóvenes.
Más de 1.3 millones de turistas británicos visitaron Chipre el año pasado, según servicio estadístico de Chipre .
Corrección 19 de julio de 2019: una versión anterior de esta historia decía que el grupo era todos adolescentes, pero el rango de edad ha cambiado a raíz de la nueva información.
Source link
Be part of our affiliated companies and receive a 20% discount.
www.onevirtualoffice.com
www.be1radio.com
www.rmcommunik.com
www.beonegroup.ca
Need Help?
Let our experienced staff help with virtual helpdesk. click for details.
Services:
– Laptop and Desktop Repair
– Virus and Malware Removal
– Computer Tune-up
– Remote Assistance
– Data Backup
– Data Recovery
– File Transfer and Sharing
– Hardware Diagnostics
– Antivirus Installation
– Software Installation
– Hardware Upgrades
– New System Setup
– Printer Troubleshooting
-Webmaster,hosting,Logo , Graphic design
-Social media Management
– Networking
– Install Windows Operating System (10, 8, 7, Vista and XP)
Business & Residential Toll Free: 1-800-432-1475 | Direct: (438)488-3296
Eventos Montreal
conciertos Montreal