Alrededor de 200 personas esperan en las inmediaciones del Coliseo Roberto Clemente en Hato Rey para saludar y recibir regalos de Bad Bunny en su evento "La nueva tradicioón".
La estrella de la música urbana organizó el evento como parte de su deseo de compartir con su público a través de su recién creada Fundación Good Bunny.
La primera persona en llegar a las 5:45 fue el niño de Yan Saúl Ramos Cruz, desde Bayamón.
El evento está bien organizado, hay música de trova y se esperan pleneros.
Se espera que el artista llegue a las 9:30 a.m.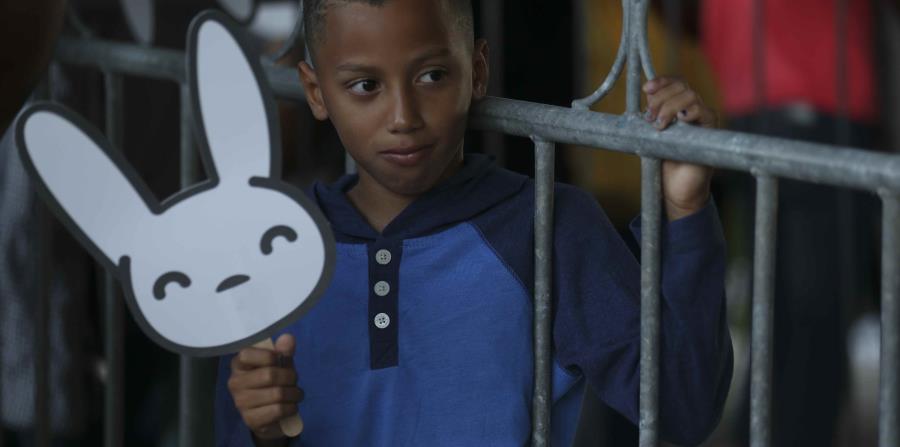 La organización sin fines de lucro compartió los detalles del evento. A continuación te decimos lo que deber saber: 
1. La entrada es por la avenida Roosevelt. Los portones abrieron al público a las 6:00 a.m. y pueden estacionarse en las áreas sur y oeste del complejo deportivo.
2. No se permitió pernoctar en horas de la madrugada, para hacer la fila. 
3. Dentro del complejo, los asistentes pasarán al área de "check point" donde se le proveerá un "voucher" a cada niño presente, para que puedan redimirlo y recibir su regalo.
4. Las puertas del Coliseo abren a las 8:00 a.m. y comienza la entrega de regalos.
5. En el evento hay diversos oasis y baños portátiles ubicados en puntos estratégicos, cerca de donde se hará la fila.
6. Los juguetes o juegos que se regalan forman parte de un ambiente que facilite experiencias que favorezcan el desarrollo integral de los niños en las artes y los deportes.
7. La organización recomienda al público llevar niños mayores de 8 años.
Source link
Be part of our affiliated companies and receive a 20% discount.
www.onevirtualoffice.com
www.be1radio.com
www.rmcommunik.com
www.beonegroup.ca
Need Help?
Let our experienced staff help with virtual helpdesk. click for details.
Services:
– Laptop and Desktop Repair
– Virus and Malware Removal
– Computer Tune-up
– Remote Assistance
– Data Backup
– Data Recovery
– File Transfer and Sharing
– Hardware Diagnostics
– Antivirus Installation
– Software Installation
– Hardware Upgrades
– New System Setup
– Printer Troubleshooting
-Webmaster,hosting,Logo , Graphic design
-Social media Management
– Networking
– Install Windows Operating System (10, 8, 7, Vista and XP)
Business & Residential Toll Free: 1-800-432-1475 | Direct: (438)488-3296