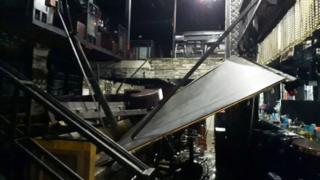 Dos personas murieron y un número resultó herido, luego de que un balcón interno colapsara en un club nocturno en la ciudad surcoreana de Gwangju el sábado temprano, dice el servicio de bomberos local.
Varios atletas en el Campeonato Mundial de Natación resultaron heridos leves, informó la agencia de noticias Yonhap.
Dos jugadores de water polo de Nueva Zelanda sufrieron heridas leves.
Dos surcoreanos fueron trasladados al hospital en estado grave y luego murieron, informa Yonhap.
Los fallecidos tenían 38 y 27 años, y no eran competidores en los campeonatos.
Un balcón y una escalera dentro de la discoteca Coyote Ugly se derrumbaron a las 02; 29 del sábado (17:29 GMT del viernes), mientras que unas 370 personas estaban dentro.
En ese momento, varios equipos de waterpolo estaban en el club, que está cerca de la aldea de los atletas.
Un buceador masculino y una jugadora de waterpolo del equipo de los Estados Unidos sufrieron heridas leves.
"Esta es una tragedia terrible", dijo Christopher Ramsey, jefe de USA Water Polo.
"Las jugadoras de nuestros equipos masculino y femenino estaban celebrando la victoria del campeonato mundial de mujeres cuando ocurrió el colapso en un club público.
" Nuestros corazones están con las víctimas del choque y sus familias . "
"Solo estábamos bailando y al siguiente minuto bajamos cinco o seis metros y todos empezaron a salir corriendo del club", dijo a Radio Sport el capitán de waterpolo masculino de Nueva Zelanda, Matt Small.
Era "un negocio como de costumbre y luego literalmente se derrumbó bajo nuestros pies", agregó.
Miembros del equipo australiano de waterpolo también estaban en el club.
"Todos los jugadores australianos están a salvo y escaparon sin lesiones", dijo un comunicado de Water Polo Australia.
El 2019 Campeonato Mundial de Natación Fina finaliza el domingo.
"Fina lamenta profundamente la situación y envía sus mejores deseos a las víctimas de este accidente". dijo una declaración del cuerpo de natación mundial.
Source link
Be part of our affiliated companies and receive a 20% discount.
www.onevirtualoffice.com
www.be1radio.com
www.rmcommunik.com
www.beonegroup.ca
Need Help?
Let our experienced staff help with virtual helpdesk. click for details.
Services:
– Laptop and Desktop Repair
– Virus and Malware Removal
– Computer Tune-up
– Remote Assistance
– Data Backup
– Data Recovery
– File Transfer and Sharing
– Hardware Diagnostics
– Antivirus Installation
– Software Installation
– Hardware Upgrades
– New System Setup
– Printer Troubleshooting
-Webmaster,hosting,Logo , Graphic design
-Social media Management
– Networking
– Install Windows Operating System (10, 8, 7, Vista and XP)
Business & Residential Toll Free: 1-800-432-1475 | Direct: (438)488-3296
Eventos Montreal
conciertos Montreal