El reclamo a la renuncia del gobernador Ricardo Rosselló Nevares entre fanáticos del Baloncesto Superior Nacional (BSN) continuó el jueves en la final de la liga, esta vez en el quinto juego entre los Leones de Ponce y los Santeros de Aguada en la cancha Ismael "Chavalillo" Delgado.
La joven Valeria Semidei Rodríguez se presentó a la instalación con un grupo de sus compañeros de trabajo en Aguadilla con una pancarta que leía "Ricky Renuncia". También, estuvo presente en la manifestación multisectorial que se llevó a cabo el miércoles desde el Capitolio hasta la Plaza del Quinto Centenario en el Viejo San Juan.
"Estuvo muy organizada. Impresionante", expresó Semidei Rodríguez a El Nuevo Día sobre la multitud, que se estima rondó entre las 500,000 personas.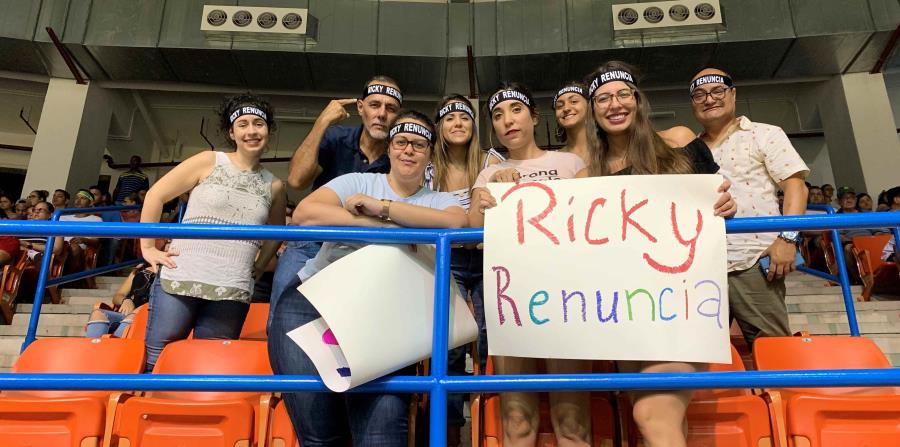 El grupo también lucía pañuelos negros con el hashtag que se convirtió en tendencia mundial en la red social Twitter. La mismas fueron vendidas en el coliseo por un hombre que no se quiso identificar.
"He vendido dos o tres", precisó mientras aficionados se le acercaba para comprar las cintas.
Manifestaciones de este tipo también se vieron en el cuarto juego de la serie de campeonato el miércoles en el auditorio Juan "Pachín" Vicens.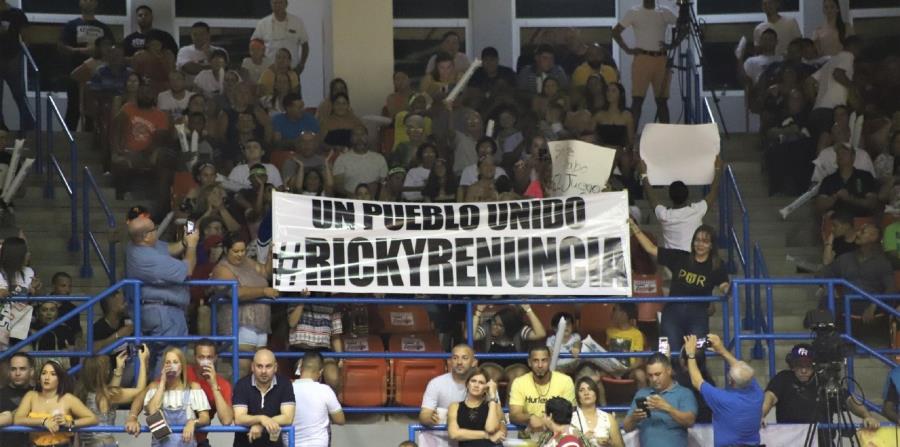 En lo que va de la semana, la isla, al igual que puertorriqueños en la diáspora, se ha manifestado de forma masiva para que Rosselló abandone su puesto tras la revelación de un chat de 889 en el cual el primer ejecutivo del país intercambiaba mensajes con algunos de sus asesores que han sido catalogados como sexistas, misóginos y discriminatorios.
También, la semana pasada, varios exfuncionarios de la presente administración -incluyendo a la exsecretaria de Educación, Julia Keleher– fueron arrestados por las autoridades federales por cargos de corrupción y fraude.
Source link
Be part of our affiliated companies and receive a 20% discount.
www.onevirtualoffice.com
www.be1radio.com
www.rmcommunik.com
www.beonegroup.ca
Need Help?
Let our experienced staff help with virtual helpdesk. click for details.
Services:
– Laptop and Desktop Repair
– Virus and Malware Removal
– Computer Tune-up
– Remote Assistance
– Data Backup
– Data Recovery
– File Transfer and Sharing
– Hardware Diagnostics
– Antivirus Installation
– Software Installation
– Hardware Upgrades
– New System Setup
– Printer Troubleshooting
-Webmaster,hosting,Logo , Graphic design
-Social media Management
– Networking
– Install Windows Operating System (10, 8, 7, Vista and XP)
Business & Residential Toll Free: 1-800-432-1475 | Direct: (438)488-3296