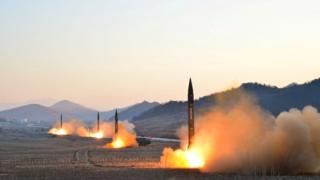 Corea del Norte ha disparado dos "proyectiles" no identificados al mar, dice el ejército surcoreano.
Según el Ministerio de Defensa de Japón, los objetos "parecían ser misiles balísticos".
Si se confirma como una prueba de misiles, sería el duodécimo lanzamiento del Norte este año.
A principios de este mes, Corea del Norte probó un nuevo tipo de misil que también se podría lanzar desde un submarino .
Ese misil era, en teoría, capaz de llevar un arma nuclear. Ser lanzado desde un submarino puede hacer que los misiles sean más difíciles de detectar y les permite acercarse a otros objetivos.
Los proyectiles del jueves fueron disparados al Mar del Este, también conocido como el Mar de Japón. Se cree que los lanzamientos provienen de la provincia del sur de Pyongan, según el Estado Mayor Conjunto de Seúl.
Los proyectiles aterrizaron fuera de la zona económica marítima exclusiva de Japón, dijo la guardia costera japonesa.
El ejército surcoreano dijo que mantendría su disposición para rastrear y monitorear futuros lanzamientos.
El lanzamiento coincidió con el día en que el presidente de Corea del Sur, Moon Jae-in, asistió al funeral de su madre, quien murió a principios de esta semana.
El miércoles, el líder norcoreano Kim Jong-un había expresado "profundas condolencias" y "consuelo" al Sr. Moon.
Se cree ampliamente que Corea del Norte tiene misiles capaces de atacar objetivos de largo alcance, incluido el territorio continental de los Estados Unidos.
También afirma tener una bomba nuclear, puede montarla en un misil.
Las pruebas aparentes se producen cuando las conversaciones nucleares entre Pyongyang y Washington permanecen en un punto muerto.
La última vez que el presidente de los Estados Unidos, Donald Trump, se reunió con Kim Jong-un del Norte fue en junio, cuando los dos líderes se reunieron en la frontera intercoreana.
Las conversaciones entre funcionarios estadounidenses y norcoreanos en Suecia a principios de este mes no lograron ningún progreso.
Source link
Be part of our affiliated companies and receive a 20% discount.
www.onevirtualoffice.com
www.be1radio.com
www.rmcommunik.com
www.beonegroup.ca
Need Help?
Let our experienced staff help with virtual helpdesk. click for details.
Services:
– Laptop and Desktop Repair
– Virus and Malware Removal
– Computer Tune-up
– Remote Assistance
– Data Backup
– Data Recovery
– File Transfer and Sharing
– Hardware Diagnostics
– Antivirus Installation
– Software Installation
– Hardware Upgrades
– New System Setup
– Printer Troubleshooting
-Webmaster,hosting,Logo , Graphic design
-Social media Management
– Networking
– Install Windows Operating System (10, 8, 7, Vista and XP)
Business & Residential Toll Free: 1-800-432-1475 | Direct: (438)488-3296
Eventos Montreal
conciertos Montreal