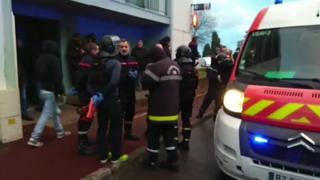 Una persona murió y seis resultaron heridas cuando un hombre abrió fuego con un rifle en la ciudad de Bastia, en la isla francesa de Córcega, según la policía.
El sospechoso comenzó a disparar en la calle alrededor de las 16:25 hora local (15:45 GMT) en el vecindario Montesoro de Bastia.
Después del ataque, el sospechoso regresó a su casa y las fuerzas de seguridad rodearon el edificio.
El motivo del ataque aún no está claro, aunque los informes iniciales han descartado el terrorismo.
El sospechoso tiene más de 60 años y previamente fue condenado dos veces por delitos armados, dijo la fiscal local Caroline Tharot a la AFP.
En un tweet, Gilles Simeoni, presidente de la Asamblea de Córcega, dijo que la persona que murió era un funcionario de vivienda pública. Un oficial de policía resultó herido.
Tres mujeres están entre las lesionadas, según la televisión France 3.
Source link
Be part of our affiliated companies and receive a 20% discount.
www.onevirtualoffice.com
www.be1radio.com
www.rmcommunik.com
www.beonegroup.ca
Need Help?
Let our experienced staff help with virtual helpdesk. click for details.
Services:
– Laptop and Desktop Repair
– Virus and Malware Removal
– Computer Tune-up
– Remote Assistance
– Data Backup
– Data Recovery
– File Transfer and Sharing
– Hardware Diagnostics
– Antivirus Installation
– Software Installation
– Hardware Upgrades
– New System Setup
– Printer Troubleshooting
-Webmaster,hosting,Logo , Graphic design
-Social media Management
– Networking
– Install Windows Operating System (10, 8, 7, Vista and XP)
Business & Residential Toll Free: 1-800-432-1475 | Direct: (438)488-3296
Eventos Montreal
conciertos Montreal