El avión en el que viajaba el actor Jason Momoa, quien protagonizó la película de "Aquaman", se llevó un gran susto luego de que el avión en el que viajaba tuvo que aterrizar de emergencia después de que se activara la alarma de incendio. 
El propio actor de 39 años dio a conocer la noticia en su Instagram Stories, donde compartió la experiencia vivida junto a unos amigos.
Y es que el actor, nacido en Hawaii, y sus acompañantes partieron en un jet privado de Palm Springs, California, y se dirigían a Phoenix, cuando un presunto incendio en la aeronave cambió sus planes. 
"Bueno, parece que nos enfrentamos a un ligero retraso en el viaje. Media hora después de salir, de vuelta a Palm Springs porque al avión le ha dado por incendiarse…", comentó Momoa a sus seguidores en Instagram.
"El departamento de bomberos ha estado a la altura, hay que quererlos", dijo el musculoso actor mientras esperaba a que el avión fuera revisado minuciosamente.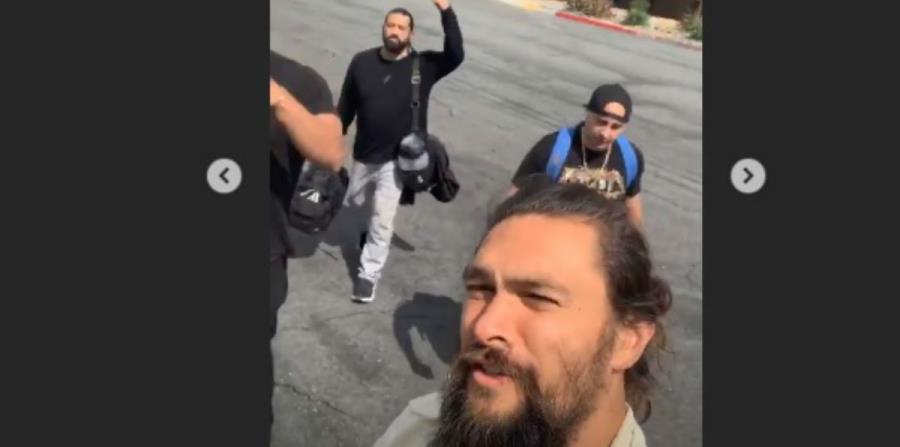 Incluso Jason Momoa bromeó al decir que tenía que manejar en auto las casi 250 millas que le faltaban para llegar a su destino. 
Tras revisar el jet, las autoridades informaron que se trató de una falsa alarma y que todo estaba bajo control, informó el sitio E! News.
Sin embargo, ya estaba en camino otro avión para que el actor y sus amigos pudieran retomar el viaje y llegar a Phoenix.
Mientras esperaba, Momoa se tomó fotografías con los bomberos de Palm Springs, quienes muy orgullosos de haber apoyado al famoso actor, compartieron las imágenes en su cuenta de Instagram.
"Tenía una emergencia de avión hoy. Fuego del motor reportado con Jason Momoa a bordo… siempre es bueno conocer gente genial. #aquaman", destaca el texto de los bomberos en la red social. 
En las fotografía aparece un bombero posando muy feliz junto al superhéroe de Marvel.
Be part of our affiliated companies and receive a 20% discount.
www.onevirtualoffice.com
www.be1radio.com
www.rmcommunik.com
www.beonegroup.ca
Need Help?
Let our experienced staff help with virtual helpdesk. click for details.
Services:
– Laptop and Desktop Repair
– Virus and Malware Removal
– Computer Tune-up
– Remote Assistance
– Data Backup
– Data Recovery
– File Transfer and Sharing
– Hardware Diagnostics
– Antivirus Installation
– Software Installation
– Hardware Upgrades
– New System Setup
– Printer Troubleshooting
-Webmaster,hosting,Logo , Graphic design
-Social media Management
– Networking
– Install Windows Operating System (10, 8, 7, Vista and XP)
Business & Residential Toll Free: 1-800-432-1475 | Direct: (438)488-3296