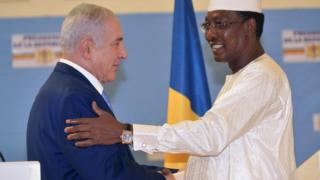 Chad e Israel han renovado los lazos diplomáticos en lo que el primer ministro israelí, Benjamin Netanyahu, ha descrito como "una asociación … para forjar un futuro próspero y seguro para nuestros países".
Sus comentarios se produjeron durante una breve visita a Chad, donde fue recibido por el presidente Idriss Deby.
En los últimos años, Israel ha realizado un gran esfuerzo para mejorar las relaciones diplomáticas con varios países africanos.
Chad, que tiene una mayoría de población musulmana, cortó lazos en 1972.
La visita de Netanyahu corresponde al viaje del presidente Deby a Israel en noviembre pasado, el primero de un líder de Chad.
Además de renovar los lazos diplomáticos, los dos líderes firmaron varios acuerdos, Deby dijo en una conferencia de prensa conjunta, pero no dijo cuáles eran esos acuerdos.
"El propósito de su visita es acercar a nuestros dos países y cooperar", dijo al Sr. Neytanyahu, el periódico Haaretz informa .
Chad está interesado en "seguridad, inteligencia, tecnología y un camino hacia Washington", escribe el corresponsal diplomático del Jerusalem Post Herb Keinon .
Por su parte, el primer ministro israelí está tratando de separar el proceso de paz con los palestinos de las relaciones con los países de mayoría musulmana, añade Keinon.
En 2016, Netanyahu se convirtió en el primer primer ministro israelí en visitar África en casi tres décadas, con un viaje a Uganda, Etiopía, Kenia y Ruanda.
Un año después, asistió a una reunión en Liberia de jefes de estado del grupo regional de África occidental, Ecowas. Sin embargo, se canceló una cumbre Israel-África que debía celebrarse en Togo en octubre de 2017.
Source link
Be part of our affiliated companies and receive a 20% discount.
www.onevirtualoffice.com
www.be1radio.com
www.rmcommunik.com
www.beonegroup.ca
Need Help?
Let our experienced staff help with virtual helpdesk. click for details.
Services:
– Laptop and Desktop Repair
– Virus and Malware Removal
– Computer Tune-up
– Remote Assistance
– Data Backup
– Data Recovery
– File Transfer and Sharing
– Hardware Diagnostics
– Antivirus Installation
– Software Installation
– Hardware Upgrades
– New System Setup
– Printer Troubleshooting
-Webmaster,hosting,Logo , Graphic design
-Social media Management
– Networking
– Install Windows Operating System (10, 8, 7, Vista and XP)
Business & Residential Toll Free: 1-800-432-1475 | Direct: (438)488-3296