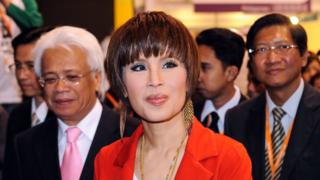 El rey de Tailandia, Vajiralongkorn, ha denunciado como "inapropiado" el intento sin precedentes de su hermana de postularse para primer ministro.
En una declaración del palacio, dijo que tal acto "desafiaría la cultura de la nación".
La princesa Ubolratana Mahidol, de 67 años, ha sido nominada como candidata a un partido aliado para dividir al ex primer ministro Thaksin Shinawatra.
Tal movimiento rompería con la tradición de que la familia real tailandesa permanezca públicamente fuera de la política.
La elección de Tailandia se realizará el 24 de marzo.
Se está observando de cerca como la primera oportunidad para que Tailandia regrese a la democracia después de cinco años bajo el gobierno militar.
En una declaración del palacio en todas las cadenas de televisión tailandesas, el rey dijo: "A pesar de que ella ha renunciado a sus títulos reales por escrito, mantuvo su estatus y se comportó como miembro de la dinastía Chakri.
"La participación de un miembro de alto rango de la familia real en la política, en cualquier caso, se considera un acto que desafía las tradiciones, las costumbres y la cultura de la nación, y por lo tanto se considera extremadamente inapropiado".
Citó un pasaje de la constitución que dice que la monarquía debe mantener la neutralidad política.
Horas antes, la princesa Ubolratana defendió su decisión de postularse para un cargo.
En una publicación de Instagram, ella reiteró que había renunciado a todos sus títulos reales y ahora vivía como un plebeyo.
Ella dijo que quería ejercer sus derechos como ciudadana ordinaria ofreciendo su candidatura para primer ministro. Ella dijo que trabajaría con toda sinceridad y determinación para la prosperidad de todos los tailandeses.
¿Quién es la princesa Ubolratana Mahidol?
Nacida en 1951, la princesa Ubolratana Rajakanya Sirivadhana Barnavadi es la hija mayor del amado rey de Tailandia Bhumibol Adulyadej. Murió en 2016 .
Asistió al Instituto de Tecnología de Massachusetts y, después de casarse con una estadounidense en 1972, renunció a su título real . Después de su divorcio, regresó a Tailandia en 2001 y una vez más comenzó a participar en la vida real.
La princesa se involucra activamente en las redes sociales y también ha protagonizado varias películas tailandesas.
Ella tiene tres hijos, uno de los cuales murió en el tsunami de 2004. Los otros dos ahora también viven en Tailandia.
La princesa se ha registrado para el partido Thai Raksa Chart, que está estrechamente vinculado al ex primer ministro Thaksin Shinawatra.
Source link
Be part of our affiliated companies and receive a 20% discount.
www.onevirtualoffice.com
www.be1radio.com
www.rmcommunik.com
www.beonegroup.ca
Need Help?
Let our experienced staff help with virtual helpdesk. click for details.
Services:
– Laptop and Desktop Repair
– Virus and Malware Removal
– Computer Tune-up
– Remote Assistance
– Data Backup
– Data Recovery
– File Transfer and Sharing
– Hardware Diagnostics
– Antivirus Installation
– Software Installation
– Hardware Upgrades
– New System Setup
– Printer Troubleshooting
-Webmaster,hosting,Logo , Graphic design
-Social media Management
– Networking
– Install Windows Operating System (10, 8, 7, Vista and XP)
Business & Residential Toll Free: 1-800-432-1475 | Direct: (438)488-3296
Eventos Montreal
conciertos Montreal