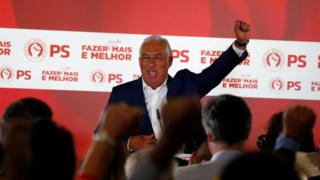 El primer ministro de Portugal, Antonio Costa, ganó la reelección, sin embargo, no tiene una mayoría absoluta en el parlamento.
Con más de la mitad de los votos contados hasta ahora, su partido socialista lideró con 36.7% y tendrá que formar un gobierno minoritario.
Costa dijo que estaba encantado con el resultado y agregó que los votantes habían demostrado que querían estabilidad.
El rival del partido, el Partido Socialdemócrata de centroderecha, ha quedado en segundo lugar.
El Sr. Costa dijo que los votantes portugueses habían demostrado que querían que su partido continuara su pacto con dos partidos de extrema izquierda: el Bloque de Izquierda y los comunistas.
Dijo que gobernaría con determinación y responsabilidad.
También mencionó las negociaciones con el partido Pueblo-Animales-Naturaleza (PAN), informó Reuters.
Si bien la extrema izquierda ha estado pidiendo más inversiones en servicios públicos, se espera que Costa renueve su compromiso de cumplir con las normas presupuestarias de la zona euro.
Casi 11 millones de personas están registradas para votar en la carrera por el control del parlamento de 230 escaños de Portugal.
La popularidad de los socialistas se vio afectada por una serie de escándalos, que incluyen acusaciones de nepotismo y un presunto encubrimiento de robo de armas en una base militar.
En 2015, los socialdemócratas (PSD) obtuvieron la mayoría de los votos, pero el Partido Socialista llegó al poder después de llegar a acuerdos formales con partidos de izquierda más pequeños.
Desde entonces, la economía del país ha crecido por encima de la media de la UE. Los recortes a los salarios y pensiones del sector público se han revertido.
Source link
Be part of our affiliated companies and receive a 20% discount.
www.onevirtualoffice.com
www.be1radio.com
www.rmcommunik.com
www.beonegroup.ca
Need Help?
Let our experienced staff help with virtual helpdesk. click for details.
Services:
– Laptop and Desktop Repair
– Virus and Malware Removal
– Computer Tune-up
– Remote Assistance
– Data Backup
– Data Recovery
– File Transfer and Sharing
– Hardware Diagnostics
– Antivirus Installation
– Software Installation
– Hardware Upgrades
– New System Setup
– Printer Troubleshooting
-Webmaster,hosting,Logo , Graphic design
-Social media Management
– Networking
– Install Windows Operating System (10, 8, 7, Vista and XP)
Business & Residential Toll Free: 1-800-432-1475 | Direct: (438)488-3296
Eventos Montreal
conciertos Montreal