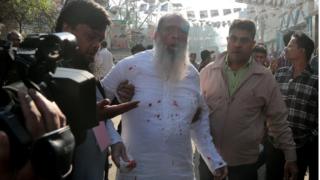 La oposición de Bangladesh ha condenado lo que ha llamado una elección "ridícula" y ha exigido una nueva votación.
Los primeros resultados muestran que el partido del primer ministro Sheikh Hasina está a la cabeza, y es probable que gane una gran mayoría.
Pero hubo reclamos de manipulación de votos, y un corresponsal de la BBC vio las urnas llenas en un centro de votación antes de que se abrieran las urnas.
"Instamos a la comisión electoral a anular este resultado de farsa de inmediato", dijo el líder opositor Kamal Hossain.
La Comisión de Elecciones de Bangladesh dijo a la agencia de noticias Reuters que había escuchado las acusaciones de fraude en "todo el país" e investigaría.
Al menos 17 personas murieron en enfrentamientos entre los partidarios del partido gobernante y la oposición.
'Demasiado asustado para hablar'
Yogita Limaye, BBC News, Dhaka
Mientras pasábamos de la cabina de votación a la cabina de votación, un patrón se hizo claro. Las personas que apoyaron el partido del primer ministro Hasina expresaron su opinión y se alegraron de responder a nuestras preguntas ante la cámara acerca de los problemas que habían votado. Los otros estaban en su mayoría demasiado asustados para hablar.
Un hombre nos dijo que varios miembros de su familia extendida descubrieron que sus votos ya se habían emitido cuando fueron a la casilla electoral. Dijo que no creía que fuera una elección justa, pero que no quería ser identificado
No fue difícil ver por qué se sintió intimidado. Fuera de cada casilla de votación a la que fuimos, había docenas de trabajadores del partido del primer ministro, que escuchaban atentamente cuando alguien era entrevistado. Nadie de los partidos de oposición era visible.
Si bien la comisión electoral ha dicho que investigará las denuncias de fraude electoral, la organización ha sido acusada de parcialidad por la oposición.
Hasta ahora, el primer ministro no ha respondido a estas últimas acusaciones, pero hace dos días rechazó las reclamaciones de que la elección fue injusta.
Se anticipa ampliamente que su partido ganará las urnas, pero será una victoria polémica.
Source link
Be part of our affiliated companies and receive a 20% discount.
www.onevirtualoffice.com
www.be1radio.com
www.rmcommunik.com
www.beonegroup.ca
Need Help?
Let our experienced staff help with virtual helpdesk. click for details.
Services:
– Laptop and Desktop Repair
– Virus and Malware Removal
– Computer Tune-up
– Remote Assistance
– Data Backup
– Data Recovery
– File Transfer and Sharing
– Hardware Diagnostics
– Antivirus Installation
– Software Installation
– Hardware Upgrades
– New System Setup
– Printer Troubleshooting
-Webmaster,hosting,Logo , Graphic design
-Social media Management
– Networking
– Install Windows Operating System (10, 8, 7, Vista and XP)
Business & Residential Toll Free: 1-800-432-1475 | Direct: (438)488-3296