Además de la genialidad de la puesta en escena, uno de los principales valores del musical "Hamilton" son sus actores y la versatilidad con la que se transforman en escena de un Marqués de Lafayette a un Thomas Jefferson o de una Peggy Schuyler a Maria Reynolds.
A menos de 24 horas para que "Hamilton" estrene en Puerto Rico y mientras Lin-Manuel Miranda y el elenco ensayan a todo vapor para el debut el 11 de enero, compartimos el listado de quienes pisarán el escenario como parte del "And Peggy Tour", que tras terminar sus funciones en la isla, se trasladarán a California. 
Donald Webber Jr., como Aaron Burr
El actor californiano será el antagonista de Lin-Manuel Miranda y personificará a Aaron Burr, el tercer vicepresidente de los Estados Unidos y quien tiene un rol clave en la obra. Le dijo a El Nuevo Día que el guion de la obra es "una belleza".
Simon Longnight, como el Marqués de Lafayette y Thomas Jefferson
El actor, bailarín y cantante del estado de Oregon agradeció a Lin-Manuel hace pocos días la oportunidad para darle vida al Marqués de Lafayette, uno de los héroes de esa guerra, y a Thomas Jefferson, el tercer mandatario de Estados Unidos.
Julia Harriman, como Eliza Schuyler Hamilton
La joven californiana que lleva días disfrutando de las playas de Puerto Rico, será Eliza Hamilton en la obra y promete demostrar cómo este papel le devolvió el amor por la actuación.
Sabrina Sloan, como Angelica Schuyler
En tanto, Sabrina Sloan, que estuvo esta semana visitando El Yunque con su familia, se pondrá en las vestiduras de Angelica Schuyler, hija del general Philip Schuyler.
Darilyn Castillo, como Peggy Schuyler y Maria Reynolds
I'm like… OKAY ???? #staywoke #actor #moneymoves #weouthere #wmtps #RepresentationMatters #blactina #Melanin pic.twitter.com/OdInPfSDNB

— Darilyn Castillo (@darilyn_melody) March 4, 2018
La actriz natural de El Bronx hará de Peggy Schuyler, la tercera hija del General Schuyler, y de Maria Reynolds, la esposa de James Reynolds y amante de Alexander Hamilton.                             
Rick Negrón, como King George III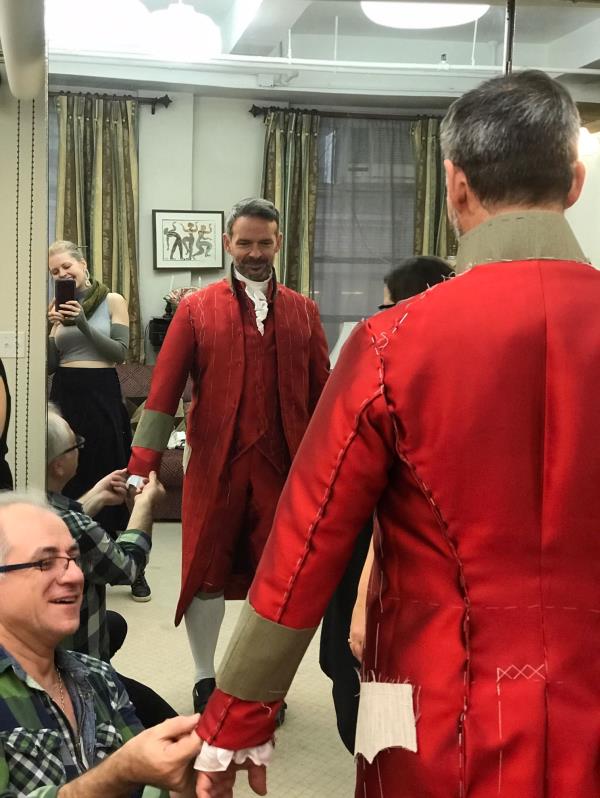 El actor y cantante puertorriqueño será el rey George III. Para el boricua, estar en casa interpretando este papel es unsueño, según dijo a El Nuevo Día.
Isaiah Johnson, como George Washington      
El actor se prepara para ponerse en la piel de George Washington, el primer presidente de EE.UU. y el comandante del Ejército en la Guerra de Independencia.
Ruben J. Carbajal, como John Laurens y Philip Hamilton
El joven Rubén J. Carbajal será John Laurens, un soldado estadounidense de Carolina del Sur durante la Guerra de Independencia, muy conocido por sus férreas críticas hacia la esclavitud. Carbajal viajó desde San Francisco para actuar también como Phillip Hamilton, hijo de Alexander y Eliza.  
Brandon Armstrong, como Hercules Mulligan y James Madison
Al igual que Simon, Darilyn y Ruben, Brandon Armstrong tendrá dos personajes: Hercules Mulligan, el sastre que fue espía durante la Guerra de Independencia de EE.UU., y James Madison, el cuarto presidente estadounidense.
Be part of our affiliated companies and receive a 20% discount.
www.onevirtualoffice.com
www.be1radio.com
www.rmcommunik.com
www.beonegroup.ca
Need Help?
Let our experienced staff help with virtual helpdesk. click for details.
Services:
– Laptop and Desktop Repair
– Virus and Malware Removal
– Computer Tune-up
– Remote Assistance
– Data Backup
– Data Recovery
– File Transfer and Sharing
– Hardware Diagnostics
– Antivirus Installation
– Software Installation
– Hardware Upgrades
– New System Setup
– Printer Troubleshooting
-Webmaster,hosting,Logo , Graphic design
-Social media Management
– Networking
– Install Windows Operating System (10, 8, 7, Vista and XP)
Business & Residential Toll Free: 1-800-432-1475 | Direct: (438)488-3296