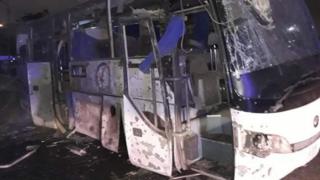 Una explosión en la carretera mató a dos turistas vietnamitas e hirió a otras 12 personas en un autobús cerca de las pirámides de Giza en Egipto, dice el Ministerio del Interior egipcio.
Una bomba oculta al lado de una pared se disparó cuando el autobús que transportaba a 14 turistas vietnamitas pasaba, agrega.
Dos egipcios, incluido el conductor del autobús, están entre los heridos, según el ministerio.
El turismo ha sido durante mucho tiempo un pilar de la economía del país.
Los militantes han atacado a visitantes extranjeros en el pasado, con dos turistas alemanes asesinados a puñaladas en un hotel en el popular balneario de Hurghada en el Mar Rojo el año pasado .
Source link
Be part of our affiliated companies and receive a 20% discount.
www.onevirtualoffice.com
www.be1radio.com
www.rmcommunik.com
www.beonegroup.ca
Need Help?
Let our experienced staff help with virtual helpdesk. click for details.
Services:
– Laptop and Desktop Repair
– Virus and Malware Removal
– Computer Tune-up
– Remote Assistance
– Data Backup
– Data Recovery
– File Transfer and Sharing
– Hardware Diagnostics
– Antivirus Installation
– Software Installation
– Hardware Upgrades
– New System Setup
– Printer Troubleshooting
-Webmaster,hosting,Logo , Graphic design
-Social media Management
– Networking
– Install Windows Operating System (10, 8, 7, Vista and XP)
Business & Residential Toll Free: 1-800-432-1475 | Direct: (438)488-3296