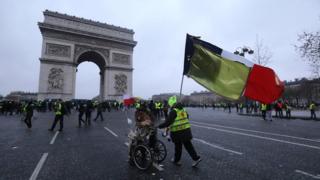 Miles de manifestantes acudieron a Francia en busca de nuevas protestas de "chalecos amarillos", con decenas de arrestos y enfrentamientos en París y otras ciudades.
La policía en la capital usó cañones de agua y gases lacrimógenos cuando estallaron peleas en el Arco del Triunfo, en el noveno fin de semana consecutivo de protestas.
Se registraron unos 84,000 manifestantes en todo el país, un aumento en comparación con la semana pasada, según muestran las cifras oficiales.
Las protestas en todo el país fueron provocadas inicialmente por el aumento del precio del combustible.
Desde entonces se han ampliado para incluir la ira en el costo de la vida, con una amplia lista de otras demandas.
Miles de oficiales fueron desplegados en todo París, que anteriormente había visto enfrentamientos callejeros y vandalismo, para atacar a los manifestantes, y partes del centro de la ciudad fueron bloqueadas por la policía antidisturbios.
Unos 8,000 manifestantes estaban en las calles, más que en los últimos dos fines de semana, cuando las autoridades contaban con solo 3,500 personas el 5 de enero y 800 el 29 de diciembre, según cifras del Ministerio del Interior.
Unos 156 manifestantes fueron arrestados, y hasta las 21:00 hora local (20:00 GMT), 108 permanecieron bajo custodia, dijo la policía.
Al anochecer, no había habido el saqueo ni la quema de autos como se había visto en las semanas anteriores.
También hubo miles de manifestantes en las ciudades de Burdeos y Toulouse en el sur de Francia, así como en Estrasburgo en el este y en la ciudad central de Bourges, el sitio de otro rally importante, donde más de 6,000 La gente salía a las calles.
En todo el país, 244 personas fueron arrestadas, de las cuales 201 permanecieron bajo custodia, dijo la policía.
Unos 80,000 policías fueron desplegados en todo el país para enfrentar a los manifestantes.
El presidente francés, Emmanuel Macron, dijo que el 15 de enero se iniciará un debate nacional en respuesta a las semanas de protesta de los "gilets jaunes", llamados así por las chaquetas de alta visibilidad que llevan.
Se llevará a cabo públicamente en los ayuntamientos de toda Francia y en Internet, y se centrará en cuatro temas: impuestos, energía verde, reforma institucional y ciudadanía.
Source link
Be part of our affiliated companies and receive a 20% discount.
www.onevirtualoffice.com
www.be1radio.com
www.rmcommunik.com
www.beonegroup.ca
Need Help?
Let our experienced staff help with virtual helpdesk. click for details.
Services:
– Laptop and Desktop Repair
– Virus and Malware Removal
– Computer Tune-up
– Remote Assistance
– Data Backup
– Data Recovery
– File Transfer and Sharing
– Hardware Diagnostics
– Antivirus Installation
– Software Installation
– Hardware Upgrades
– New System Setup
– Printer Troubleshooting
-Webmaster,hosting,Logo , Graphic design
-Social media Management
– Networking
– Install Windows Operating System (10, 8, 7, Vista and XP)
Business & Residential Toll Free: 1-800-432-1475 | Direct: (438)488-3296