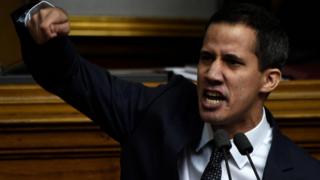 El jefe del parlamento venezolano controlado por la oposición, Juan Guaidó, ha sido detenido por agentes inteligentes.
Su esposa, Fabiana Rosales, dijo en Twitter que se desconocía el paradero del Sr. Guaidó.
Un video publicado en las redes sociales parece mostrar el momento en que agentes interceptan su automóvil en medio de una carretera muy transitada.
El viernes dijo que estaba listo para asumir la presidencia del país de manera interina después de que el presidente Nicolás Maduro prestara juramento para un segundo mandato.
La oposición declaró ilegítimo el nuevo período de seis años del Sr. Maduro.
El Sr. Guaidó es el orador de la Asamblea Nacional, que ha sido despojada de poderes por el Tribunal Supremo.
Be part of our affiliated companies and receive a 20% discount.
www.onevirtualoffice.com
www.be1radio.com
www.rmcommunik.com
www.beonegroup.ca
Need Help?
Let our experienced staff help with virtual helpdesk. click for details.
Services:
– Laptop and Desktop Repair
– Virus and Malware Removal
– Computer Tune-up
– Remote Assistance
– Data Backup
– Data Recovery
– File Transfer and Sharing
– Hardware Diagnostics
– Antivirus Installation
– Software Installation
– Hardware Upgrades
– New System Setup
– Printer Troubleshooting
-Webmaster,hosting,Logo , Graphic design
-Social media Management
– Networking
– Install Windows Operating System (10, 8, 7, Vista and XP)
Business & Residential Toll Free: 1-800-432-1475 | Direct: (438)488-3296