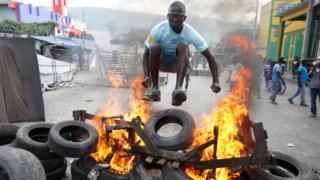 Los manifestantes de la oposición en Haití quemaron neumáticos y arrojaron piedras, instando al presidente Jovenel Moise a renunciar.
Al menos cuatro personas murieron y decenas resultaron heridas en cuatro días de protestas en la capital, Puerto Príncipe y otras ciudades.
Muchos haitianos acusan al Sr. Moise y otros funcionarios de corrupción. Miles han tomado las calles esta semana.
Los disturbios han obligado a los alcaldes de varias ciudades a cancelar las festividades de carnaval que se realizarán a principios de marzo.
El Sr. Moise, quien ha estado en el poder desde 2017, ha pedido conversaciones con la oposición, hasta ahora sin ningún resultado.
Los grupos de oposición pidieron protestas después de que un informe de la corte alegó que los funcionarios y ex ministros habían malversado los préstamos de desarrollo hechos por Venezuela a Haití después de 2008.
El informe también sugería que el presidente Moise había participado irregularidades
Haití es el país más pobre del Caribe y el 60% de la población vive con menos de $ 2 (£ 1.53) por día.
Source link
Be part of our affiliated companies and receive a 20% discount.
www.onevirtualoffice.com
www.be1radio.com
www.rmcommunik.com
www.beonegroup.ca
Need Help?
Let our experienced staff help with virtual helpdesk. click for details.
Services:
– Laptop and Desktop Repair
– Virus and Malware Removal
– Computer Tune-up
– Remote Assistance
– Data Backup
– Data Recovery
– File Transfer and Sharing
– Hardware Diagnostics
– Antivirus Installation
– Software Installation
– Hardware Upgrades
– New System Setup
– Printer Troubleshooting
-Webmaster,hosting,Logo , Graphic design
-Social media Management
– Networking
– Install Windows Operating System (10, 8, 7, Vista and XP)
Business & Residential Toll Free: 1-800-432-1475 | Direct: (438)488-3296
Eventos Montreal
conciertos Montreal