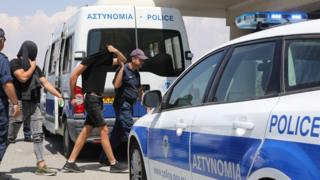 Una mujer británica que alegó haber sido violada en Chipre fue arrestada bajo sospecha de haber hecho una denuncia falsa, según las agencias de noticias.
Los 12 israelíes arrestados por el presunto ataque, que se dice que tuvo lugar el 17 de julio en Ayia Napa, han sido puestos en libertad.
Reuters y AFP dijeron que la mujer de 19 años fue arrestada el domingo.
La Oficina de Asuntos Exteriores dijo que estaba apoyando a una mujer británica y su familia después de su arresto en Chipre.
Ella comparecerá ante el tribunal el lunes, dijo a AFP el portavoz de la policía, Christos Andreou.
La mujer británica se puso en contacto con la policía en las primeras horas del 17 de julio y dijo que había sido agredida en un hotel del complejo vacacional. Más tarde, ese día, la policía arrestó a 12 hombres, que fueron puestos en prisión preventiva.
El grupo, de 15 a 20 años, rechazó la reclamación.
Cinco del grupo fueron liberados el jueves y los siete restantes fueron enviados a casa el domingo.
La ciudad de Ayia Napa es un centro turístico popular entre los jóvenes.
Más de 1.3 millones de turistas británicos visitaron Chipre el año pasado, según el servicio estadístico de Chipre .
Source link
Be part of our affiliated companies and receive a 20% discount.
www.onevirtualoffice.com
www.be1radio.com
www.rmcommunik.com
www.beonegroup.ca
Need Help?
Let our experienced staff help with virtual helpdesk. click for details.
Services:
– Laptop and Desktop Repair
– Virus and Malware Removal
– Computer Tune-up
– Remote Assistance
– Data Backup
– Data Recovery
– File Transfer and Sharing
– Hardware Diagnostics
– Antivirus Installation
– Software Installation
– Hardware Upgrades
– New System Setup
– Printer Troubleshooting
-Webmaster,hosting,Logo , Graphic design
-Social media Management
– Networking
– Install Windows Operating System (10, 8, 7, Vista and XP)
Business & Residential Toll Free: 1-800-432-1475 | Direct: (438)488-3296
Eventos Montreal
conciertos Montreal