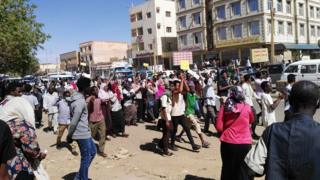 Las fuerzas de seguridad dispararon gases lacrimógenos contra los manifestantes en Sudán, cuando las protestas contra el presidente Omar al-Bashir entraron en su segundo mes.
El presidente Bashir reiteró el domingo las afirmaciones de que los "agentes" extranjeros y los rebeldes de la región de Darfur están fomentando la disidencia.
Las autoridades dicen que 26 personas murieron en las protestas, pero los grupos de derechos humanos dicen que más de 40 personas murieron.
Las protestas sobre los problemas económicos de Sudán comenzaron en diciembre, pero se transformaron en enojo ante el mandato de 30 años del Sr. Bashir.
En un discurso al sur de la capital el domingo, el presidente culpó a los "infiltrados" por los asesinatos.
"Hay algunas personas entre los manifestantes que están matando a los manifestantes", dijo.
Cientos de manifestantes intentaron marchar contra el parlamento en la ciudad gemela de Omarto, Omdurman, el domingo.
Trataron de entregar una petición exigiendo que el presidente Bashir renunciara, y cantaron "Libertad, paz y justicia", el eslogan principal del movimiento, y "Derrocamiento, derrocamiento" mientras marchaban.
Pero la policía disparó gases lacrimógenos para detener su progreso y, según informes, persiguió a los manifestantes.
La agencia de noticias Reuters dice que unos 30 vehículos que transportaban personal de seguridad en uniforme y ropa normal descendieron en el área.
También se registraron protestas en los distritos de Jartum de Burri y Bahari, al este y al norte de la capital, respectivamente.
Un médico murió en enfrentamientos en Burri el viernes .
Hubo informes de que un niño también fue asesinado, pero los organizadores se disculparon el domingo por lo que llamaron un "informe falso".
Los activistas dicen que las fuerzas gubernamentales dispararon rondas en vivo y detuvieron a los sospechosos.
Sarah Jackson, directora adjunta para el grupo de derechos humanos Amnistía Internacional, culpó a las fuerzas de seguridad de una "ola de asesinatos desenfrenados" en un comunicado de prensa .
Source link
Be part of our affiliated companies and receive a 20% discount.
www.onevirtualoffice.com
www.be1radio.com
www.rmcommunik.com
www.beonegroup.ca
Need Help?
Let our experienced staff help with virtual helpdesk. click for details.
Services:
– Laptop and Desktop Repair
– Virus and Malware Removal
– Computer Tune-up
– Remote Assistance
– Data Backup
– Data Recovery
– File Transfer and Sharing
– Hardware Diagnostics
– Antivirus Installation
– Software Installation
– Hardware Upgrades
– New System Setup
– Printer Troubleshooting
-Webmaster,hosting,Logo , Graphic design
-Social media Management
– Networking
– Install Windows Operating System (10, 8, 7, Vista and XP)
Business & Residential Toll Free: 1-800-432-1475 | Direct: (438)488-3296